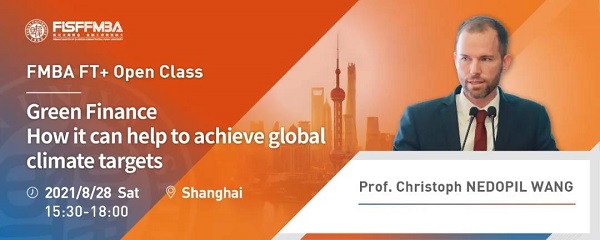 Green Finance represents the future of the financial sector through innovative financial mechanisms and by supporting the investments in projects with positive and sustainable externalities.

It is a blossoming market, presently, the European Central Bank holds around 20% of all euro-denominated green debt, eventhough it only started buying corporate bonds as recently as 2016, which indicates that the bank sees this as a way to further its own green agenda. The green bond market could be worth $2.36 trillion by 2023.
It is regarded as away of meeting the needs of environmentalism and capitalism simultaneously –but what is green finance and how does it work?To help learners discover in this specificarea, on 28th August, 2021, Fanhai International School of Finance, Fudan University will host the Master Class:Green Finance and will explore ways how green finance can help to achieve global climate targets.
16:00-18:00,Saturday
August 28, 2021

Shanghai
We will confirm your registration and send you the event location via e-mail and SMS.
15:30-16:00
Check in
16:00-16:30 Info Session of FMBA FT+ Program
16:30-17:30 Green Finance How it can help to achieveglobal climate targets
17:30-18:00 Q&A
FMBA FT+ Sep 2022 Intake application is ongoing.